Flirt4Free Review: What We Know About This Cam Site
Flirt4Free is picking up steam as a cam site with a fresh outlook and lots of goodies in store. Our Flirt4Free review covers everything you need to know about this cam site.
Cam sites are a tried-and-true hotspot of adult pleasure, and Flirt4Free has made a great first impression. I took a bite of this premium cam site and sampled the bursting flavors of its vivid public and private shows in this Flirt4Free review.
Visit Flirt4Free now to sample the hot cam shows
It was a wild ride through elegant graphics, bonus credits, multi-user shows, and exhilarating models, which I detail in and out below.
Wear your dancing shoes because this Flirt4Free party chat is about to rock your world.
Let's roll…
Flirt4Free Review - First Thoughts
Pros
Easily navigable interface
Appealing website design
Home screen thumbnail player
Automatic in-chat mini-player
Audio-only cam2cam available
Affordable virtual gifts
Professional & hot cam girls 
User-friendly navigation
No site downtime
Cons
Must link card to get bonus credits
Fewer active broadcasts (compared to Jerkmate or Chaturbate) 
Random cam show quality
Bonus credits unavailable in some countries
Bonuses, Promo Codes, Giveaways, and Discounts
Flirt4Free is one of the best cam sites that gives back to the community in the best way possible - with bonus credits.
Grab a bonus of 120 free credits upon verification of your account. That way, you have a better first landing in the chat rooms.
All the other premium deals come with bonus credits, from 120 credits to 340 credits in the higher tiers.
Fan club members also enjoy a 5% discount on all private chats, among other exclusive content you can enjoy in your free time.
With their gears set this high this soon – it's safe to assume that you should expect more where these freebies came from.
Way to go Flirt4Free!
Overall Rating - 9/10
Flirt4Free is an impressive cam site that has what it takes to compete against a heavyweight adult webcam site like Jerkmate or LiveJasmin.
Sure, I came across significant highs and minor lows as I went about this review – but again, nothing on this earth is entirely perfect.
Follow the entire story of how this adult entertainment website thrills its fans with various chatroom categories, including private shows, to earn an impressive 9/10 rating.
Flirt4Free Review – My Flirt4Free Rodeo!
When I first heard - or rather read - about Flirt4Free on social media and Reddit, I expected to find a basic site with little or no difference from the other known webcam sites.
Boy, was I in for a pleasant surprise…!
The Flirt4Free website is a stunner. You'll fall in love with the elegant dark mode set on default and how the thumbnails and dropdown lists respond with lightning-speed accuracy.
At this point, I knew my Flirt4Free experience was about to be a magnificent ballroom party, so I didn't need a second thought about signing up.
Registration - Sign Me Up
I decided to become a full-fledged member of this website to test its guns and roses, only to realize that new members get a bonus of 120 credits just for signing up.
Talk of treating visitors well…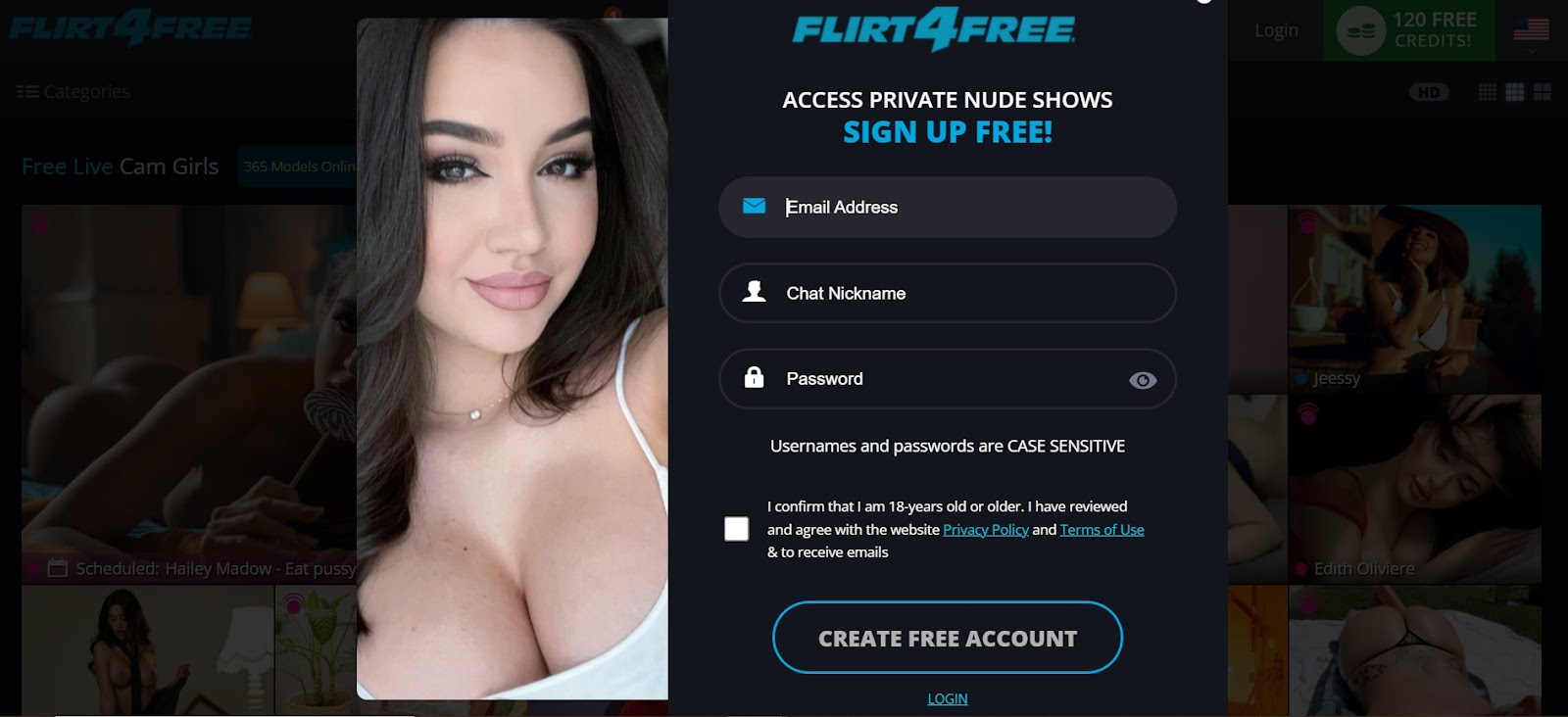 I'm not very proud to say this, but I have never been offered such a large signup bonus in all my time on these sites (which is a lot). 
I was over the moon just thinking about the havoc I could wreak with 120 free credits. If anything, now more than ever, I had to register.
I gladly fed the algorithm my anonymous email address and created a catchy alias that would stand out in the chatrooms and a password that I won't forget - even if I tried.
When I thought my free credits were finally in my pocket, I was notified that I had to verify my account through email to get my hands on them.
I didn't waste a second. 
I found the email they sent me and verified my account instantly. I have to give it to the peeps at Flirt4Free — they waste no time, so you can get straight into the action sooner than you can say "Molly."
The only downside is that your activation links expire after 48 hours, but other users claimed (couldn't confirm) that you can still verify your account after the period expires.
Sadly, I still had another final step to reclaim my bonus credits — linking my card.
Payment Methods - The Money Talk
The final step to the bonus credits at the rainbow's end was to link a payment method for future credit purchases.
I wasn't too happy about this, but since the purchase of credits was inevitable, I figured, "Why not get done with it right now?"
Right?!
I wobbled to their purchase page, and for a split second, my gaze shifted toward the other credit packages apart from my welcome bonus. 
Let me just say I was impressed.
I knew I had to spend money to get the best shows out of the cam models, but their offers were mostly affordable and loaded with mouthwatering bonuses you wouldn't find on other adult streaming sites.
Instead of getting a free 120 credits, I decided to up my game by purchasing their lowest premium tier.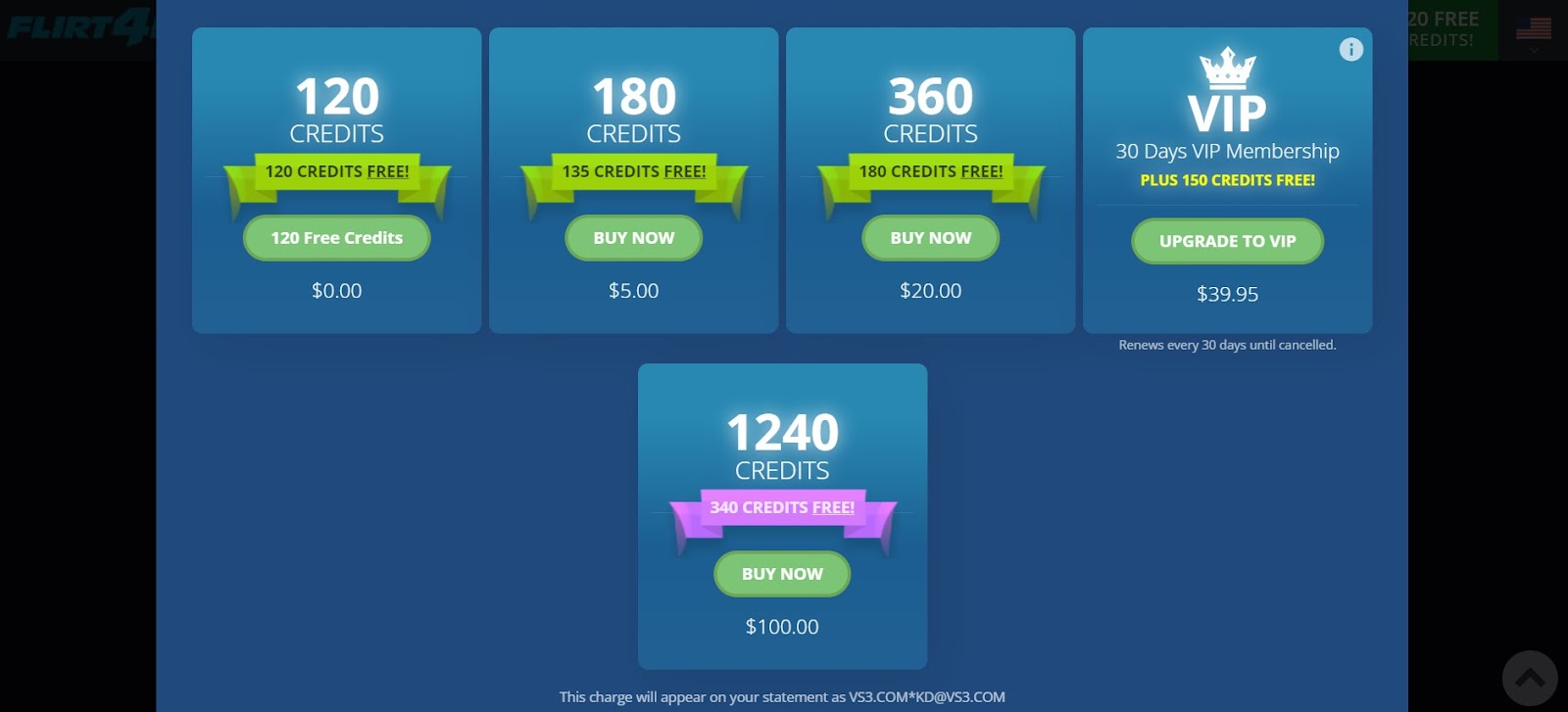 For clarity, the different tiers are as follows (as of the time of this write-up):
120 credits - Free upon registration
180 credits + 135 bonus credits - $5
300 credits + 120 free credits - $20
1240 credits + 340 free credits - $100
VIP monthly membership + 150 free credits - $39.95/month
I opted for the 180 credits for $5 because it came with a bonus of 135 credits on top of my purchase.
I know, I know…
Still, if it's for free, then it's for me!
What's in A VIP Package?
While reviewing this cam site's creme de la creme features, I discovered that the VIP membership is the best bet if you intend to stay as a regular.
"Why?" you ask.
As a VIP member, you will get impressive perks, including:
Unlimited access to the shows you record
150 daily videos to enjoy (expires after 7 days)
Private video previews
Disable free users from chatting
Access to pornstar video archives
VIP gold font on your username
Access to public chat cam2cam
If this is not something to look forward to, then I don't know what is.
Also…
As one of the VIP members, you should know that your monthly subscription will auto-renew every 30 days if you don't cancel within that period.
I think they put that notice there as a disclaimer, but I don't think many users (including you) would give those privileges up once you've had a taste of Flirt4Free's pie.
Finding Cam Girls - Bagging Entertaining Webcam Models
I noted that finding sexy cam girls to interact with on a free chat is like a walk in the park.
That said…
This premium site displays a monumental layout of cam models on your home screen, making the Louvre look like a medieval thrift shop. 
It's simply breathtaking.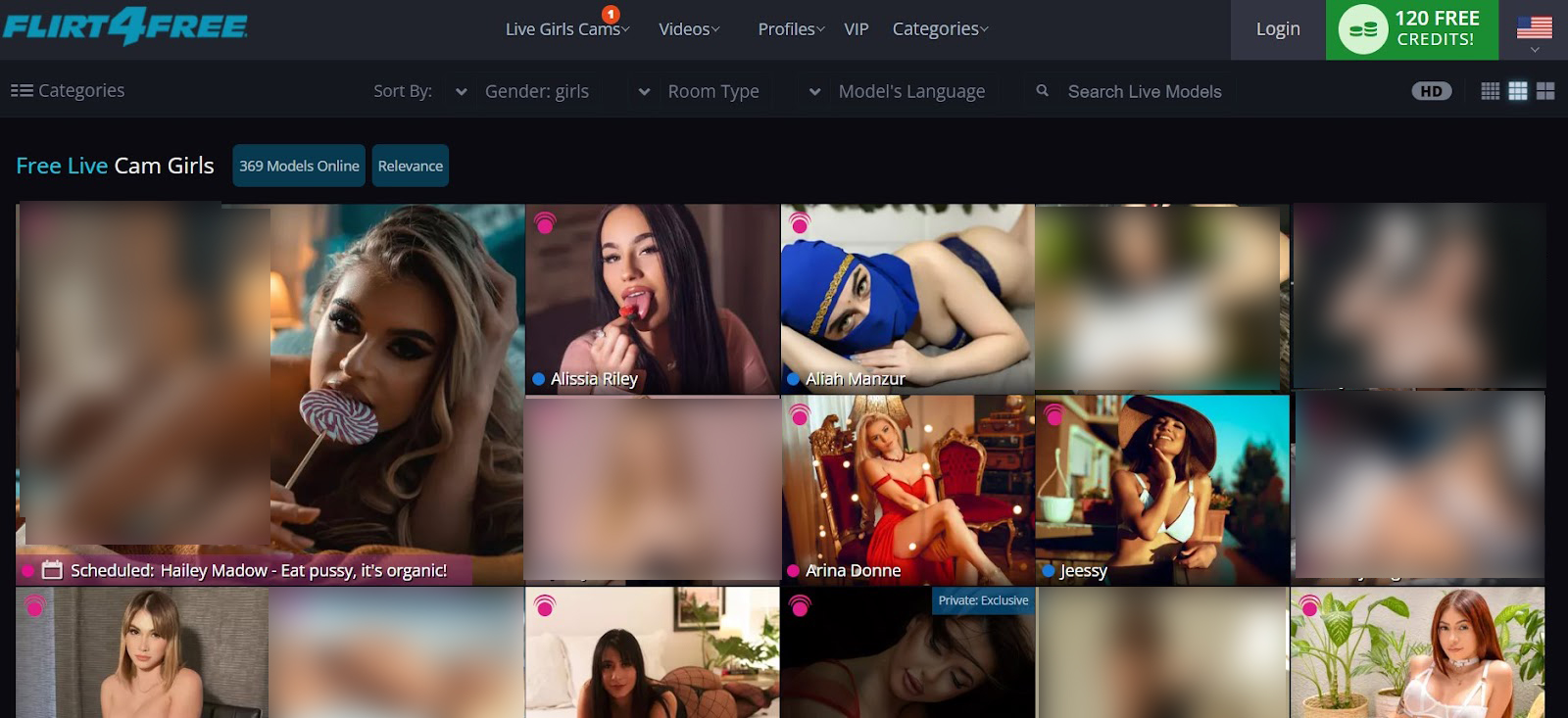 The impressive site employs an eye-candy interface with infinite sexy cam girls to choose from.
And that's only the beginning.
The beautiful webcam models appear on their chat room thumbnails, but when you hover your cursor above it for a few seconds, you get a live preview of what's happening inside.
How is this important?
First, it helps you manage your expectations, and second, pick a video chat where the models actively engage in pleasing themselves and the room.
On your home screen thumbnails, you will notice different colored dots and icons that appear puzzling at first.
Worry not. 
You can get a key for every symbol you see on the thumbnail by hovering your cursor on the "Room Type" drop-down list.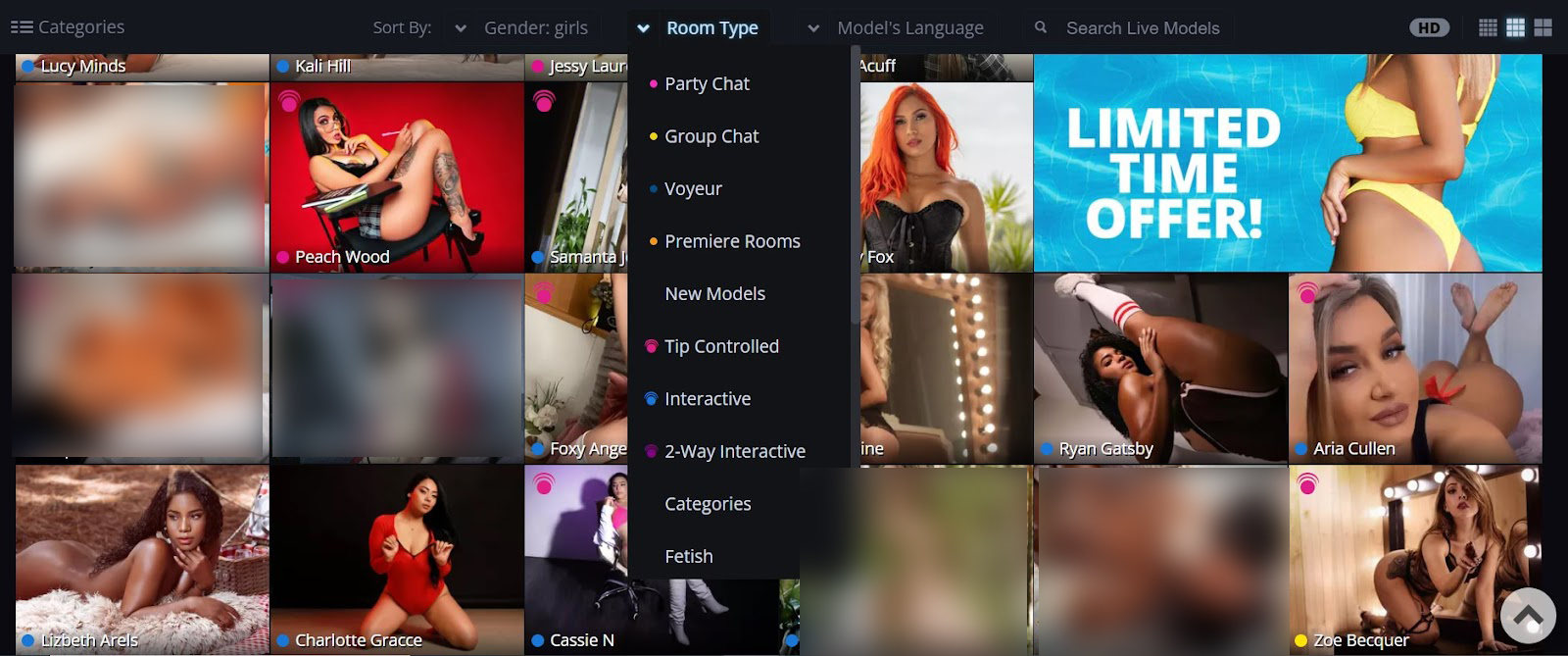 You will find different symbols marked:
Party chat
Group chat
Voyeur cam
Premiere room
Tip controlled room
Interactive room
Two-way interactive room
These icons are on the left side of the thumbnail, but you also get two more on the right side representing:
Model bio
Open the chat in a new tab
Isn't that just intuitive?
It was a good idea to place a snippet of the cam model's bio on the thumbnail as it lets you quickly check out their 'services' and decide if they match your wants and needs.
With that in mind, you can now click into a video chat of your choice.
Available Search Categories - Getting Choosy
I loved how meticulous this webcam site is in sorting the rooms so you can easily find them from drop-down lists, which isn't common with other sites.
You can pick a cam model on Flirt4Free based on all your preferences, such as:
Gender
While doing this review, I discovered that this cam site hosts multi-gender cams that suit everyone's gender orientation and preference.
Gay, straight, or trans — you can check out the Gender drop-down list to pick your preferred cam host. Where does it fall among the best trans cam sites?
No one's left out of the fun!
Model's Language
You'll be glad to hear that Flirt4Free is a multi-lingual adult entertainment website with models from all over the globe.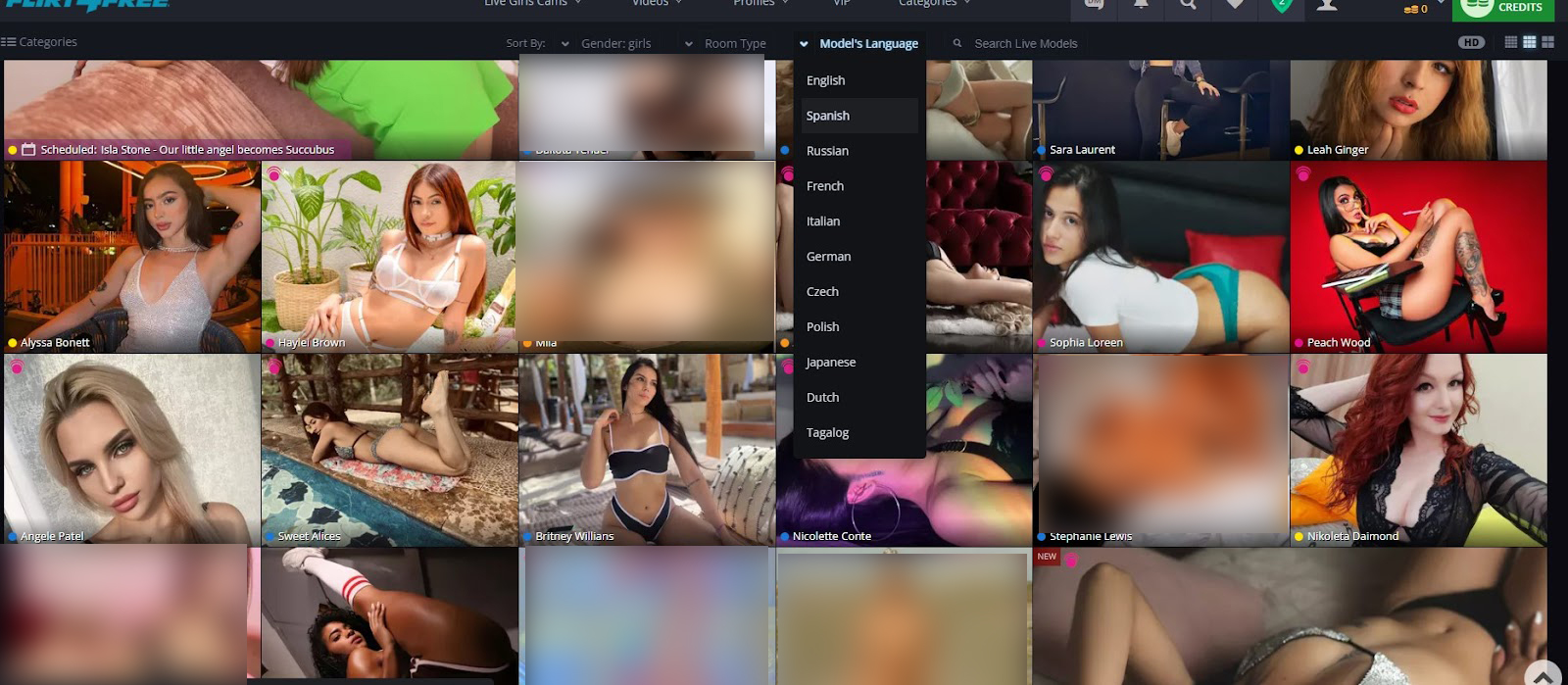 Having said that… 
Many are not native English speakers. Nonetheless, you can find models that moan in your dialect from the 11 language options available, including English, Spanish, German, and Japanese.
Room Type
As I mentioned, you can choose which type of room you want to tune into that matches your current mood or taste. 
Delight your sensual nerves with teledildonic rooms, private shows, a party chat, or a group chat. 
Also, the cam action you'll jump into will depend on your financial strengths, so you better keep an eye out for the individual room's cost as you skim through the suggestions.
Profiles
On the Profiles drop-down list, you can interact with the 'who is who' on this dashing webcam site.
Your options range from the 'Top 20 Models', new models, Flirt of the Month/Year, Freshest Face of The Month, and scheduled shows that you can plan for and add to your calendar.
Search
The search tool on Flirt4Free is not as sophisticated as what you'll find on other platforms. It only works if you have the user name in mind, say the Arabian queen Aliah Manzur for example.
It also recommends closely related models that match your search query, even if you only have their first name or part of it.
The good thing about discovering a cam model through the search is that it produces a very detailed bio with everything you need to know about the model.
I will touch on this later in detail.
Kink Selection
Unlike on other sites where the categories are arranged in tags of separate tabs, you'll get a simple drop-down list on Flirt4Free with (almost) every imaginable kink.
Moreover, the categories listed on this cam site are arranged alphabetically, with the number of active online models in each category.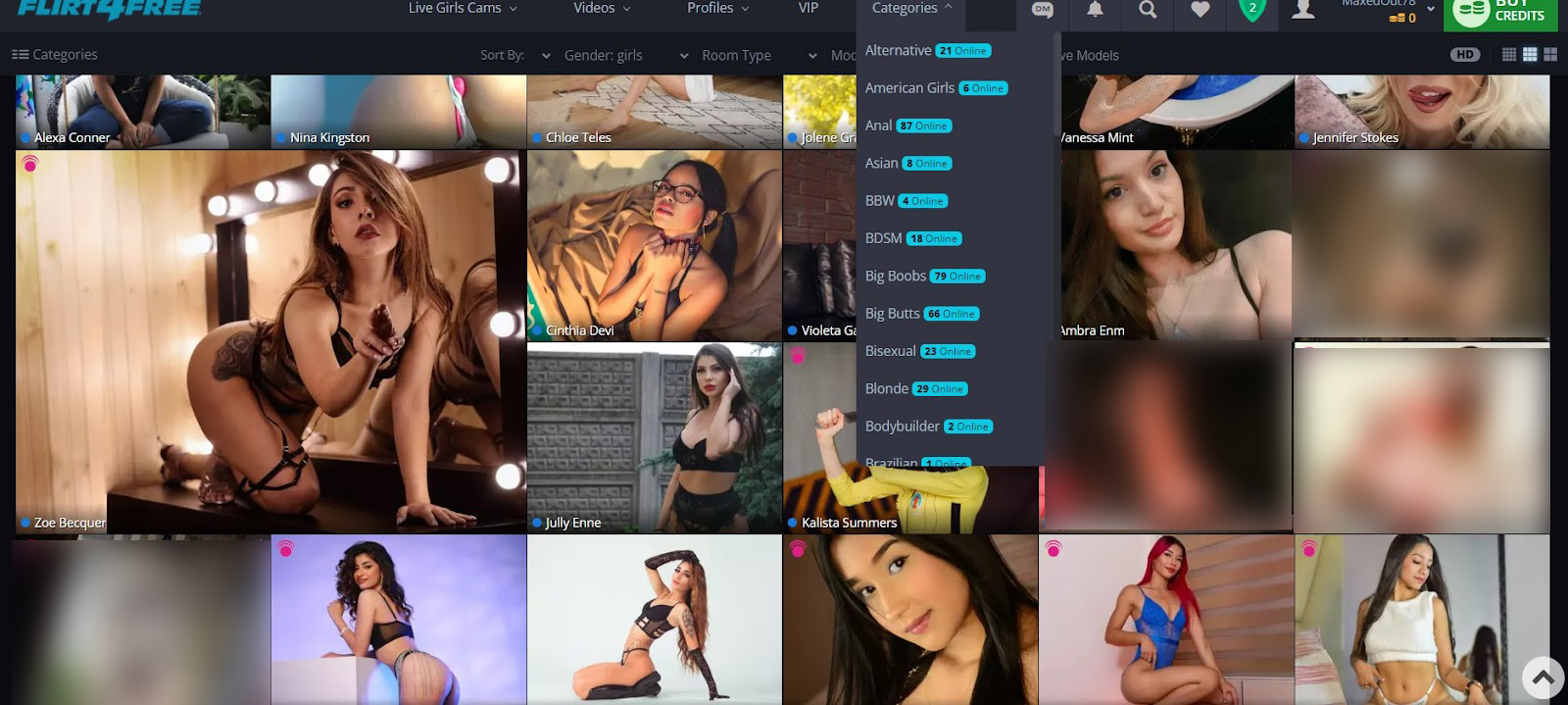 The online status shows you where you have more options and the most popular free chat hubs. 
The only downside is that Flirt4Free isn't quite as loaded with cam models as other camming sites. Nevertheless, the numbers are impressive, and you won't miss finding a cutie/stud to entertain you.
Available Chat Options - Are the Public/Private Shows Banging?
The Flirt4Free HD video chats are amazing in quality compared to most of the free chat sites on the internet, like Chaturbate.
Don't be surprised to find full HD public shows and interactive two-way cams that'll never lag on you.
Even on a budget, the group cams allow you to collectively tip credits from as little as 10 to 50,000 credits for the big ballers to call the model to action.
Before I break down the main chat options, I'd like to mention the impressive chatroom graphics and controls.
The designers went all out to give you a captivating chat room layout that's a sight for sore eyes.
Name badges, emojis, and tips/gift stores with animated icons delightfully light up the public chatbox.
Below the display screen are the model's bio, ratings, and media gallery. Most models have well-stacked galleries with lots of pants-dropping introductory photos that sell their best sides.
You'll also love how a mini-player of your selected live chat room automatically deploys as you scroll down the page. This feature helps you not miss a moment of the show as you explore other niceties around.
1. Public Chats
Anyone can access a free chat on this cam site, provided you have an account. The public chats are free-for-all shows you can join and watch without spending money.
The public chats displayed on the home screen are marked with yellow and pink dots in the bottom left corner, so I kept my eyes out for those ones.
You'll notice a tip menu pinned among the comments in a public chat with the model's performances and their rates.
Shower them with tips to make the room more lively and watch more stunts get performed.
2. Group Shows
Most times, the cam hosts have a goal they work towards, where all tips are welcome. The group show starts after the timer elapses and the model's credit goal has been achieved.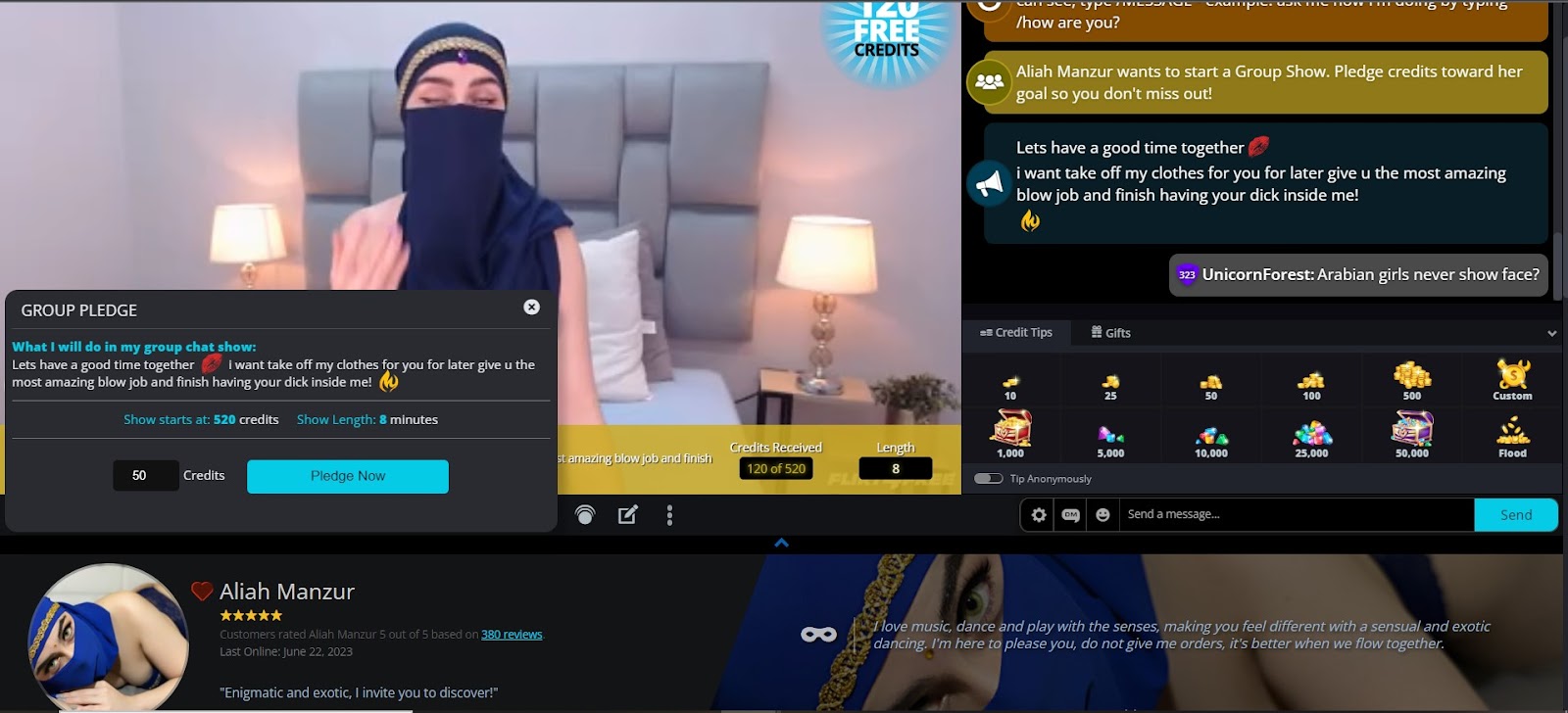 When you join a group show with any of the sex cam girls, you have a set time to pledge your tips before the show starts.
I noted that you could only get access to a group chat if you made an honored pledge toward their goal.
This is where the cam hosts bring out their sex toys to play with. The teledildonic sex toy vibrations are activated by tips, for example, 280 credits for a few seconds of vibrations.
For instance:
If Natalie's goal was 1,000 credits, she'd give you a list of everything you can expect in the group show, such as her bare curves and silk-soft knuckles.
A few days into the site, I noticed that group chats are more affordable than private chats. 
3. Private Chats
Private chats are the real estate of cam sites because the real party happens on one-on-one chats where only the user that requested the room chats with the cam girl.
Whereas they tease and toy around in a public cam — anything goes in the private chat (and I mean anything). 
However, only paying users will get their lewd requests fulfilled.
Most webcam models charge between 60-90 credits per minute for private chats, which is a great investment for what you can expect.
I sampled one of the private chats at 90 credits/minute, and the stream was seamlessly enjoyable.
The video stream was clear as day, and the audio quality exceeded my expectations. I had no complaints.
My options didn't end there.
4. Voyeur Shows
If you find your favorite model in a private chat, chances are that they will let you peek into the action for a lesser charge than the person who initiated it.
Most voyeur shows charge 5 credits per minute, but you get the first two minutes free to settle in with your host(s).
5. Multi-User Shows
These types of shows allow more than one person to chat with the cam room host in private. A multi-user show is like a group show in private.
Some models charge their multi-user show from as low as 10 credits/minute to the pricey ones at 60 credits per minute.
6. Party Chats
A party chat is a public show where all your tips collectively amount to a great show. I noticed that this is the only type of cam show that openly displays the number of people tuned in.
7. Cam2cam Private Chat
The cam2cam private show is marked by a webcam on the list of controls under your chat room. You cannot access the cam2cam for private chats unless you are a VIP member.
As a VIP member, you can use the feature in non-voyeur cams and public chats if you wish to add more spice to your public cam adventures.
I also noted that this cam site has a one-of-a-kind option to choose an audio-only cam2cam if you are camera shy but still want in on the fun.
If you are not sure about how to activate your cam2cam, the prompt button comes with instructions to help you settle in.
Blow yourself away…!
Bonus Flirt4Free Features
This site has more treats inside its goodie bag besides the hot models.
Let's check them out.
Videos
Enjoy America's best collection of webcam movies on Flirt4Free's video section, with tons of recorded shows to watch at any time.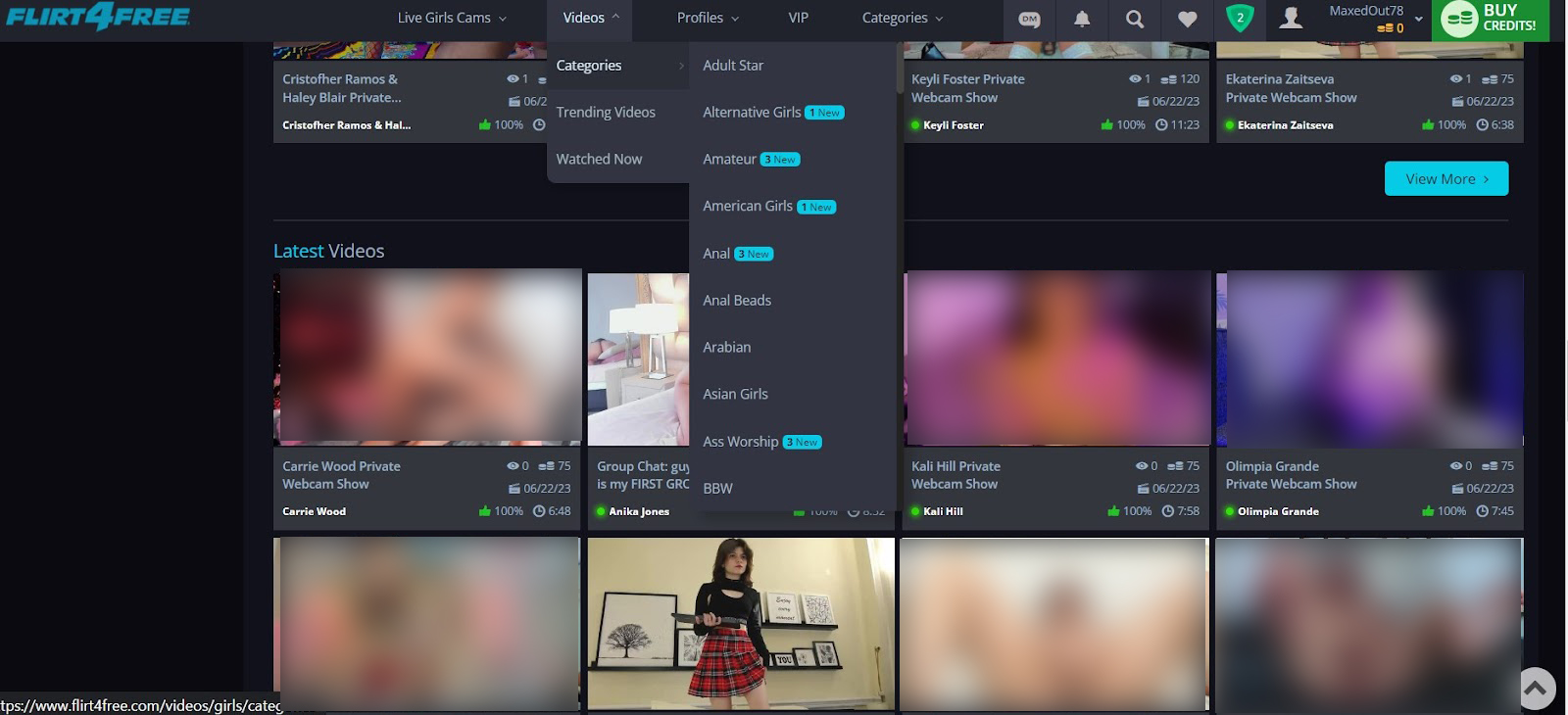 Choose the videos that make you tick among various categories, stacked with recorded cam shows from every corner of Flirt4Free.
There's only one catch…
These videos are pay-to-watch but suit everyone's pocket. The rates vary from under 100 credits to over 200 credits depending on the video's creator.
Fan Clubs
Flirt4Free creators have fan clubs for their loyal viewers to access their recorded videos, photos, blogs, and every other relatable content that's for your eyes only.
Fan club members get a 5% discount on private chats, access exclusive content, and get direct access to the model, with special treatment in the chat room.  
Fetish Community
Flirt4Free has one of the most active fetish cam communities that provides a safe space to get your freak on, learn about various kinks, and interact with other kinksters on live cams.
You'll find hundreds of live models spread across various kink categories, such as spanking and domination.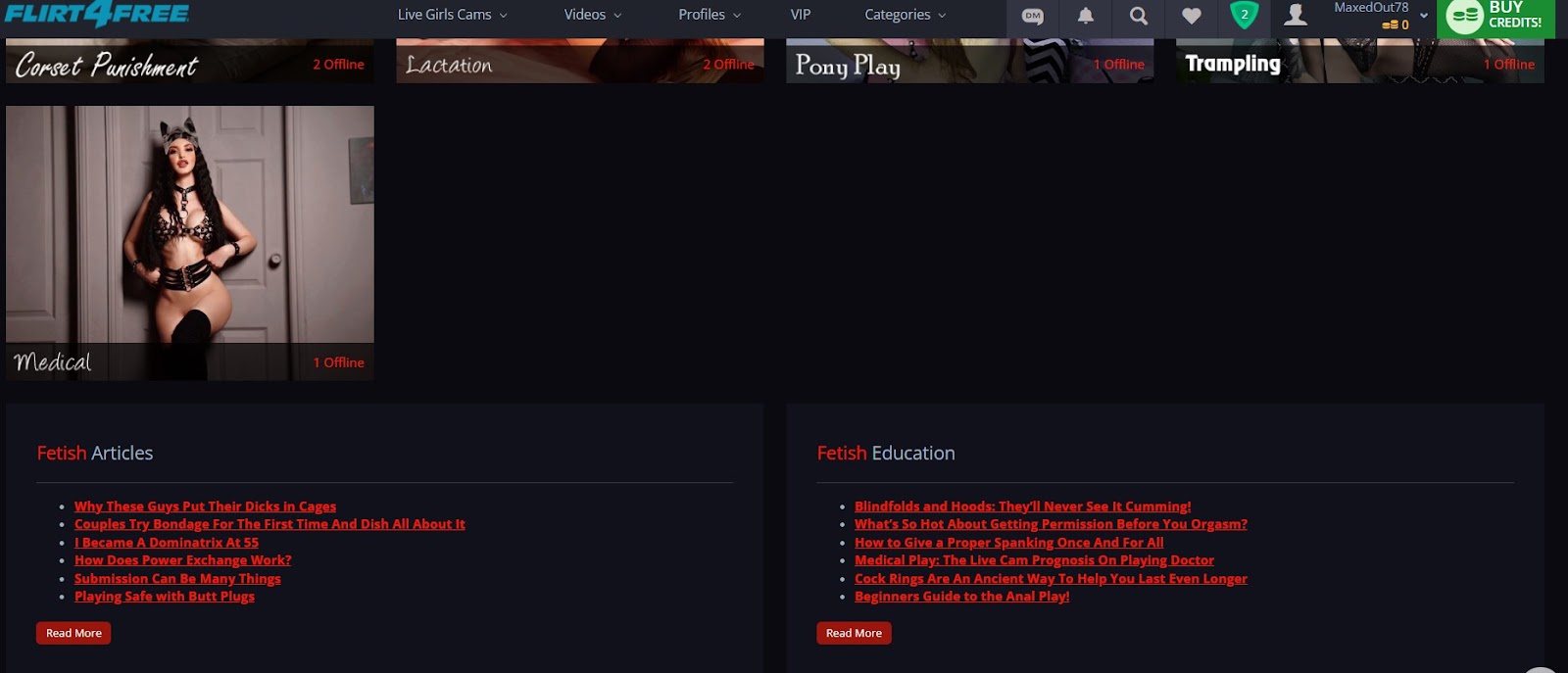 If you love Adult Friend Finder and Alt.com, you'll definitely dig this site.
FlirtPhone
The FlirtPhone is a Flirt4Free call service that connects you with a sexy cam girl for online phone flirt calls.
These calls are charged at per-minute rates and accessible using the phone icon in the chat room.
All you have to do is simply choose your model, click on the 'Call Me' button, and follow the dialing instructions.
Any Other Overlooked Flirt4Free Business
During my stay at Flirt4Free, I made some mental notes for standout features that didn't get the podium finish on the main stage.
These include:
Favorites
This feature lets you save outstanding performers that send tingles to your sweet spots to your Favorites List, marked by a heart on your taskbar. 
Click on the heart icon next to the cam model's name to save them.
Detailed Model Bios
Flirt4Free gives you all the tea and 411 about their webcam models. Scroll under your chat room to find a detailed bio containing the model's tagline and user reviews that give you a heads-up of what they're all about.
Next to them is a delightful slider with all their turn-ons, kinks, connected toys, and attire (if included).
Gift Store
Gifts make you stand out from the crowd of horny glory seekers and serve you the model's attention on a platter.
Send your favorite model a thoughtful gift – for as little as 15 credits – and charm your way into VIP treatment during shows.
How Does Flirt4Free Compare?
Flirt4Free is relatively new in the adult cams scene, but it has started out fairly strong among the big boy leagues.
With sites like Jerkmate, LiveJasmin, and Chaturbate in the mix, all Flirt4Free can do is kick up the pace with its friendly outlook that responds quickly and hardly ever lags.
Also… 
Flirt4Free is an affordable premium site compared to other top premium sites like LiveJasmin, but its services, such as private chats, are more expensive.
That said…
The Flirt4Free guest access is only a few minutes long before you're prompted to create an account. You can't compare it to MyFreeCams' and Chaturbate's free guest passes, which are virtually eternal.
Finally, although Flirt4Free has fewer active cam girls compared to sites such as Chaturbate, Jerkmate, and MyFreeCams, the few available cams are worth every minute of your time. 
This is because it has standard HD cam qualities, while competing sites like Cams.com and Chaturbate have picture qualities that vary from cam to cam. 
Flirt4Free Review FAQs
Can I Use Flirt4Free as a Free Chat?
Yes, you can use Flirt4Free for free with a free membership and watch live public cams where you don't spend money.
The only hurdle is that you will be unable to get the best out of the webcam shows since most models need tips to become active.
Does Flirt4Free Accept PayPal?
No, Flirt4Free accepts various methods of payment when purchasing credits, but PayPal isn't among them.
Instead, you can use:
Visa
MasterCard
Discover
JCB
Diners Club
Can I Find Gay Cams on Flirt4Free?
Yes, you can find gay cams among the gender category on Flirt4Free. These include guy cams, girl cams, and trans cams sections that cater to all your sexual preferences and orientations.
Flirt4Free definitely doesn't fall short among the best gay cam sites.
Wrapping It Up – Is Flirt4Free Worth Your Time and Money?
Flirt4Free is definitely worth every second you spend in its wholesome chat rooms that satisfy all your senses, from visuals to pleasure nerves.
Its HD broadcasts are enjoyable, and even though it isn't swarming with webcam models, the same goes even with fewer crowds in the chat rooms.
With the handful of cam girls, you'll get all the attention you need.
Sign up today on Flirt4Free and enjoy the rest of the ride
Adios!